Starting NPC
Edit
Grocery Trader Jinjin: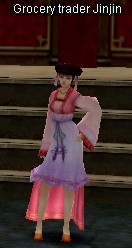 Objectives
Edit
Quest Required: None
Quest Unlocked:&nbsp Inventory Expansion 2
Related Monsters: Mangyang
Reward: Inventory +10 Slots
Walkthrough
Edit
Talk to Grocery Trader Jinjin and accept the quest.
Go outside of the town and kill Mangyangs until you get 10 Strong Straws.
Go back to the town and bring the strong straws to Grocery Trader Jinjin.
Quest Complete!